A1Ace Movers, Inc.
Specializing in Residential and Commercial moves of any size.

In Northeast Florida we serve Jacksonville and its surrounding cities in addition to the Southeastern US.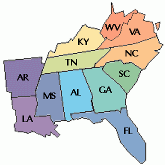 Moving across country? Ask us about a long distance move! We also cover all the continental US.
IM# 1426
MC# 594642
US DOT# 1608023

Website created by
Reach the Beach Webs

| | |
| --- | --- |
| | |
Pre-Move Checklist:

Eight weeks before you move
Contact A1Ace to make arrangements for moving day.
Remove items from your attic, basement, storage shed, etc.
Start to use up things you can't move, such as frozen foods and cleaning supplies.
Contact the chamber of commerce or visitor's and tourism bureaus in your new community for information on your new city.
Six weeks before:
If you're moving at an employer's request, verify what expenses and responsibilities are theirs and which are yours.
Contact the IRS and/or your accountant for information on what moving expenses may be tax-deductible.
Begin to inventory and evaluate your possessions. What can be sold or donated to a charitable organization? What haven't you used within the last year?
Make a list of everyone you need to notify about your move: friends, professionals, creditors, subscriptions, etc.
Obtain a mail subscription to the local paper in your new community to familiarize yourself with local government, community, and social news and activities.
Locate all motor vehicle registration and licensing documents.
If some of your goods are to be stored, make the necessary arrangements now.
Contact schools, doctors, dentists, lawyers and accountants and obtain copies of your personal records. Ask for referrals where possible.
Four weeks before
Obtain a Change of Address form from the post office.
Arrange special transportation for your pets and plants.
Contact utility and related companies (gas, electric, oil, water, telephone, cable TV, and trash collection) for service disconnect/connect at your old and new addresses. However, remember to keep phone and utilities connected at your current home throughout moving day.
Contact insurance companies (auto, homeowner's or renter's, medical, and life) to arrange for coverage in your new home.
If you're packing yourself, purchase packing boxes. A1Ace has boxes for purchase if needed. Pack items that you won't need in the next month.
Plan a garage sale to sell unneeded items or arrange to donate them to charity.
Three weeks before:
Collect important papers (insurance, will, deeds, stock, etc.).
Arrange to close accounts at your local bank and open accounts in your new locale.
Two weeks before:
For long distance moves, have your car checked and serviced for the trip. Also, make sure that your automobile is prepared (filled with the necessary antifreeze/coolant, for example) for the type of weather conditions you'll be traveling in.
If you're moving out of or into a building with elevators, contact the building management to schedule use of the elevators.
Contact us to review and confirm all arrangements for your move.
One week before:
Settle any outstanding bills with local merchants.
Don't forget to withdraw the contents of your safety deposit box, pick up any dry cleaning, return library books and rented videos, etc
Drain gas and oil from power equipment (lawn mowers, snow blowers, etc.).
Give away plants not being moved.
Prepare specific directions to your new home for your moving company. (Include your itinerary, emergency numbers, etc.)
Two to three days before:
If needed, defrost your freezer and refrigerator. Block doors open so they can't accidentally close on pets or children.
Have your major appliances disconnected and prepared for the move.
Pack a box of personal items that will be needed immediately at your new home. Have this box loaded last or carry it with you in your car.
Organize and set aside those things that you're taking with you so that they don't get loaded on the van in error.
Contact us to confirm arrival time of the moving van, as well as to notify us of any last minute details.
Moving day:
Make sure that someone is at home to answer the van foreman's questions.
Record all utility meter readings (gas, electric, water).
Keep all important documents and records in a safe location.
Do It Yourself Packing Tips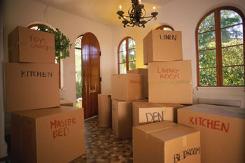 S

tart packing several cartons each day a few weeks before your move. Be sure that the items you pack won't be needed before your move, of course. By pacing yourself, you'll be more organized and the job won't be so overwhelming.

Pack on a room-by-room basis and do one area of the room at a time. It's best not to mix items from different rooms in one box.

Pack heavy items in small boxes, light items in larger boxes.

To prevent small items from being lost or mistakenly thrown out with the packing paper, wrap miniature knickknacks and other small items in brightly-colored tissue paper before placing them in the box.

On the top and front of each carton, write a general description of the contents and indicate the room from which it came (or which it will go into in your new home).

Use only unprinted newsprint paper to wrap items. Regular newspapers are messy and can soil your possessions.

Place pictures in boxes between sheets and blankets to give them added protection.

Plates and record albums should be packed on end vertically, rather than placed flat and stacked.

Use clean cartons designed for moving. Boxes obtained from grocery or liquor stores are not always clean, and they may not withstand the weight of the items that you'll be putting in them. Also, their odd sizes tend to make loading more difficult.

You should personally transport irreplaceable photos, financial papers and assets (bank checks, insurance policies, stock certificates, etc.), legal documents (wills, passports. etc.), valuables, jewelry, coin and stamp collections, etc.), and medical and family history records.

Unpack breakables over the box you're taking them out of; that way, if you happen to drop an item, it will land on some packing material, thereby reducing its chance of breakage.